The 19th annual pipes|drums New Year's Honours
2019 Product of the Year
The Tone Protector Reed Case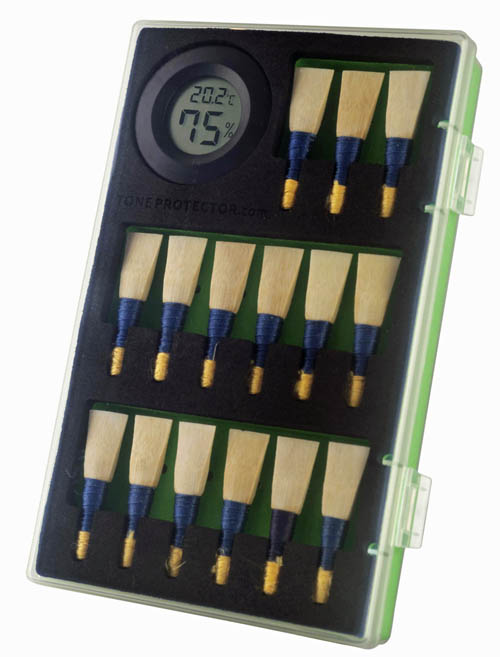 Seattle's Jori Chisholm continues to innovate, and the release of the Tone Protector Reed Case took the Highland piping market by storm in 2019. On the heel of his highly successful Tone Protector Digital Chanter Cap, the US$49.99 Tone Protector Reed Case gained 45% of the vote from our panellists. Some have called the product a game changer for improving the stability and reliability of notoriously fickle chanter reeds. As he continues to expand his teaching and products business, 2019 was a landmark year for Jori Chisholm.
Panellists' comments . . .
"Game changer."
"Taking the guess work out of managing and storing reeds!"
"Never seen a product catch on so completely and widely."
"It should improve reed storage for pipers everywhere."
"Another innovation that makes the piper's job easier and more predictable. Deals directly with the physics of the instrument."
Also nominated (alphabetical order) . . .
Axial snare drum – British Drum Co. – the introduction of a fourth serious option for pipe band drummers, the Jim Kilpatrick designed and endorsed drums are expensive but could bump out some of the competition in short order.
The Collection – Chris Armstrong's latest compilation of original pipe music was released digitally and was quickly a favourite of the year.
Forte – 2012 Snare Drum Settings – Peoples Ford Boghall & Bathgate Caledonia lead-drummer Gordon Brown produced a rarity in itself: a collection of pipe band snare scores.
Play It Like You Sing It – Barry Shears of Cape Breton brought out a comprehensive two-volume work on the music of his native land that was well reviewed by pipes|drums.
Queen's Own Cameron Highlanders of Canada Collection – another Canadian book of music, this sizable compilation matches the format and weight of the other well-known regimental collections.
ThermaCuff – former Grad 1 pipe-major John Elliott has created an inexpensive solution for the cold hands of pipers and drummers who need to keep their fingers free.
Turas Ceoil – St. Laurence O'Toole's DVD of their 2018 Pre-World's concert was well reviewed, and it could possibly be the last major product released in a physical format.
The Woodilee Collection – Simon McKerrell's collection takes a wide-ranging approach to the music of Highland and other pipes, bringing both original and traditional works to the forefront.
Here's how the voting went: