The 19th annual pipes|drums New Year's Honours
2019 Drummer of the Year
Steven McWhirter, Inveraray & District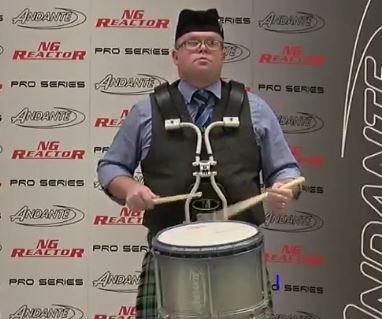 A ninth consecutive World Solo Drumming title, and tenth overall, a World Pipe Band Drumming Championship, a Champion of Champions Drumming award with his corps . . . 2019 was another spectacular year for McWhirter, who has been voted the pipes|drums Drummer of the Year six times before. The odds of him setting the World Solo Drumming record improved substantially, and, with 86% of the panellists' votes, there was no doubt where our award would go.
Panellists' comments . . .
"GOAT."
"The very best. From solo to band encompassing creativity and technical ability. One of the best ever as evidenced by the consistency of his results."
"Steven continues to demonstrate he is the best solo drummer and corps leader in the world!"
"Can do it all as a drummer."
"Work champion solo and helping his band there as well – a stand-out winner."
"Simply the best."
"He is widening the gap. Continued dominance in World Solo Championships, leadership in wining World Pipe Band Championship. In great demand as teacher. All around, no one touches him at the moment."
"Hard to see past him. His solo and band results speak for themselves."
Also nominated (alphabetical order) . . .
Gordon Brown, Peoples Ford Boghall & Bathgate Caledonia – his continuing leadership, now into his fourth decade, of one of the world's greatest corps and publishing an excellent collection of original drumming scores, made Brown a solid nominee.
Stephen Creighton, St. Laurence O'Toole – the SLOT corps continues to help bring the Dublin-based band to the top of the Grade 1 heap, and Creighton's leadership is heralded worldwide. 2019 was no exception.
Jake Jørgensen, ScottishPower – with a drumming win at the Scottish and solid top-six finishes at the other for RSPBA majors, Jørgensen is finally getting his due for the commitment and hard work he and his corps have put in.
Jim Kilpatrick – despite being retired from competition, Kilpatrick was instrumental in 2019 for bringing out the new Axial line of instruments from the British Drum Co. The 16-time World Solo Drumming Champion continues to be a prodigious presence on the pipe band drumming stage.
Here's how the voting went: