The 19th annual pipes|drums New Year's Honours
Pipe Band of the Year
Inveraray & District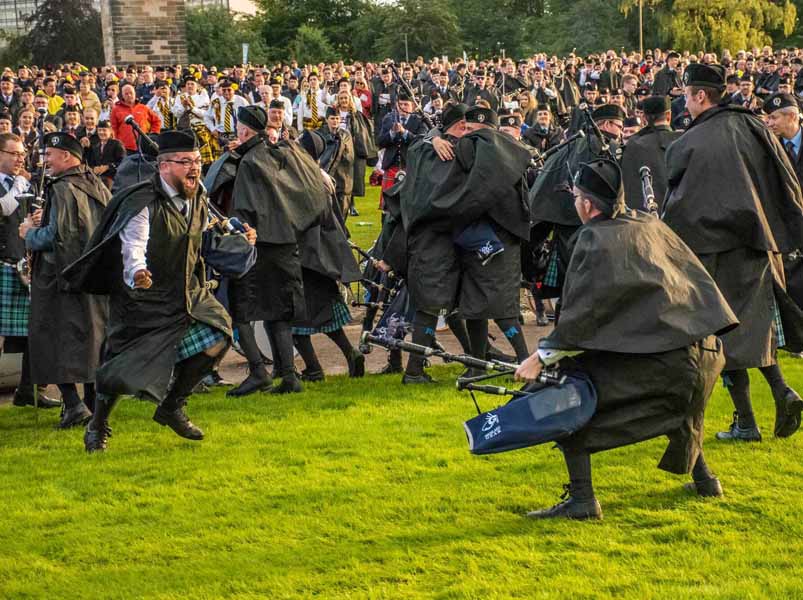 With 82% of the vote, the clear winner was Inveraray & District. And can anyone seriously dispute it? The band gained its second World Championship and, for good measure captured the Scottish and European Championships, and add to that RSPBA Champion of Champions aggregate awards in both the band and drumming categories. With Pipe-Major Stuart Liddell and Lead-Drummer Steven McWhirter – each awarded pipes|drums Piper and Drummer of the Decade honours, respectively – Inveraray's future holds unlimited possibilities. We can't wait to see what 2020 brings for this incredible band.
Panellists' comments . . .
"Beyond their competitive success, the IDPB organization is impressive in its establishment of internal teaching programs and juvenile bands to ensure years of future success. They are leaders at all levels of their organization pushing the boundaries of piping and drumming."
"For pushing Field Marshall and raising the standard of the top six."
"I think when you win the Worlds you deserve to win the Pipe Band of the Year Honour. Sure there are lots of good bands and great performances but it is all about winning the Worlds. That's why ALL the effort is focused on achieving that result."
"Once again Inveraray demonstrates a combination of incredible musicianship and tone on the world stage in 2019."
"Competition Success. World Champions. Continued excellence over the years. Combined leadership of Stuart Liddell and Steven McWhirter set them apart."
"Another WPC with sophisticated musical interpretation and dazzling technique."
"All round best musical sound for the year, many good soloists, most influential throughout the piping and drumming community."
Also nominated (alphabetical order) . . .
Field Marshal Montgomery – despite not winning an RSPBA major championship for the first time in many years, FMM were their usual stellar selves, producing another year of remarkably consistent sound that could well have gained an overall first under different circumstances.
Peoples Ford Boghall & Bathgate Caledonia – the West Lothian teaching machine came up the ranks in 2019, consistently making the prize lists at the big events. Momentum is clearly on the positive side for the Boggies. Watch this space.
ScottishPower – buoyed by two solid seconds at the British and Scottish championships, a drum section on the rise (evidenced by winning the Scottish Drumming Championship), and a standing-room only Pre-World's Concert, it was a year of great success for ScottishPower.
Shotts & Dykehead Caledonia – another band re-ascending and impressing many with their musicality and orchestration under first-year Pipe-Major Emmett Conway, Shotts is making a strong case for World's contention in the near future.
St. Laurence O'Toole – SLOT took the British and UK championships, and showed once again that they're ready to recapture the World's. With a drum section that would have cruised to a Champion of Champions award had it not been for an uncharacteristic sixth place at the Scottish, and a pipe section, Dublin's finest had another great year.
Here's how the voting went: