The 20th annual pipes|drums New Year's Honours
2020 Drummer of the Year
Steven McWhirter, Glasgow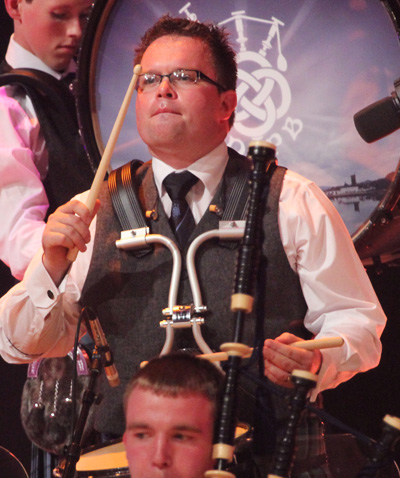 With no pipe band competition and the World Solo Drumming Championships cancelled, the globe's undisputed greatest actively competing pipe band drummer kept the momentum going forward. He struck an alliance with the Eastern United States Pipe Band Association to create a teaching partnership designed to promote the art for pipe bands generally starved of percussion personnel. This is the ninth time that Steven McWhirter has been named pipes|drums Drummer of the Year.
Panellists' comments:
"Teaching, positivity, running a half-marathon."
"I appreciated his drumming classes via the EUSPBA."
"A singular talent who goes above and beyond teaching and tirelessly working to improve the worldwide drumming standard!"
"Chosen because I know he's a role model for the up and coming drummers. I'm not a drummer but I can appreciate a drummer who plays to the piper, and he does."
"Still teaching and promoting his art despite the difficult circumstances."
Also nominated (alphabetical order) . . .
Jim Kilpatrick, Scotland – the greatest pipe band drummer in history continued his work with the British Drum Co. to develop new instruments, even when the debut of their products in action has is delayed by the pandemic.
Andrew Lawson, Scotland – the Shotts & Dykehead Caledonia lead-drummer put out a collection of scores and recordings from the band's RISE concert of 2017, one of the few books of pipe band drum music.
Eric MacNeill, Florida – a major contributor to the art, MacNeill has been a leading teacher for years, and his work up and down the eastern United States especially is exemplary.
Reid Maxwell, Vancouver – teaching, teaching and more teaching, even when there's no competition to speak of, Reid Maxwell might well be the most important drummer in the history of North American pipe bands.
Doug Stronach, Ontario – the man is a teaching machine, and he continues to focus on the needs of lower-grade players, emphasizing the importance of music literacy, and helping to standardize scores of essential tunes.