The 20th annual pipes|drums New Year's Honours
2020 Pipe Band of the Year
St. Laurence O'Toole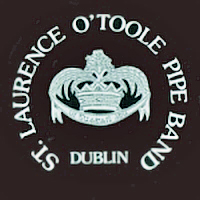 Rather than close up shop, the Grade 1 powerhouse from Dublin took to YouTube and other platforms to entertain and inspire the piping and drumming world with creative videos of new and existing music. Pipe-Major Alen Tully and Lead-Drummer Stephen Creighton kept their troops engaged, and put video editing talents within the band to work. SLOT marked the scheduled date of every major championship with a new production, which in itself took planning and commitment on the level of the real thing. Tully and Creighton were as busy as ever with new material. Rather than hibernate, it was a time for SLOT to create, inspiring pipe bands all over the world. This is the second win for St. Laurence O'Toole of the pipes|drums Pipe Band of the Year award.
Panellists' comments:
"The music video compilations they released during the dark days of spring lockdown brought joy and reminded us that pipe bands are about camaraderie and shared love of music first."
"I appreciated their reasonable attitude about COVID and especially enjoyed a remote chanter practice video."
"During a year where many looked to maintain the status quo, SLOT moved outside the box using technology and refined musical arrangements."
"The preparation required to perform at such a high level for every virtual major must have been a mammoth task."
"I believe they made the best effort to continue to try and inspire others and motivate themselves in the face of a historic year."
"The videos that they've produced and circulated have been outstanding. Original and inspiring music at a time when it is very much needed."
"I found their video posting of music put together very uplifting through a very difficult time and much appreciated their time taken to put it together."
Also nominated (alphabetical order) . . .
Manawatu Scottish – the New Zealand Grade 1 band was one of the few that actually competed in 2020, winning the Palmerston North Square Day with a full complement of players.
Peel Regional Police – the Ontario Grade 2 band didn't wait around for others and launched a highly successful online solo competition season of four separate events, donating funds to charity.
Simon Fraser University – they released a full-length live recording, orchestrated an online version of their Piping Hot Summer Drummer school, and then released a rendition of "Santa Claus is Coming to Town" that got the attention of mainstream media and gathered funds for charity.
Turiff & District – the Scottish Grade 3 band made the most of a bad situation by putting on an online solo competition and publishing a collection of music with proceeds going to front line workers, proving that pipe bands can still be all about community.