The 20th annual pipes|drums New Year's Honours
2020 Product of the Year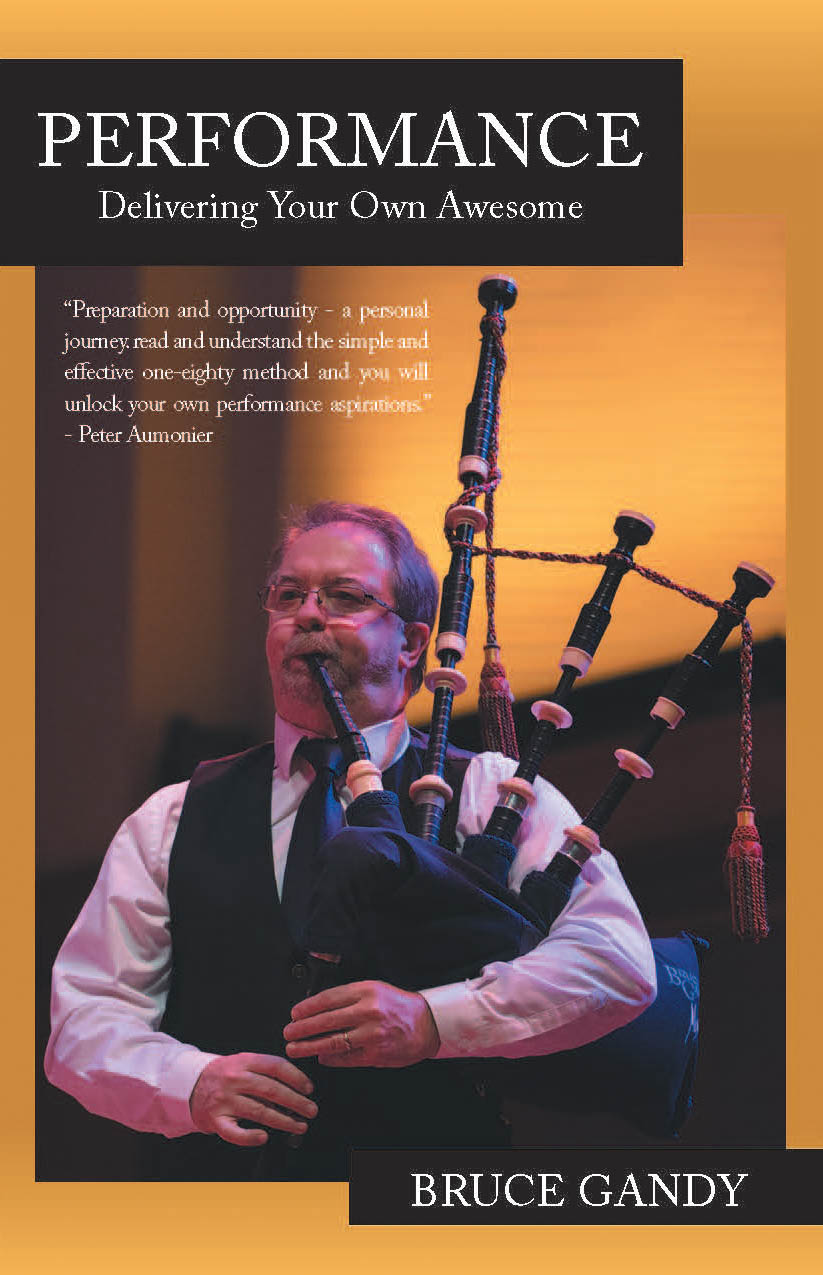 There's more to great performance than technical ability, and Bruce Gandy's lifetime of learning, improving and self-reflection has resulted in one of the great piping careers in history. He put his knowledge into words designed to help and inspire others in Performance: Delivering Your Own Awesome, which will undoubtedly open many pipers and drummers' eyes to what's possible when you put your mind to it.
---

Review: Preparation for performing your best
October 18, 2020
---
Panellists' comments:
"Unique and valuable insights from someone who is at the very top of the tree."
"It's a product that goes to great depths and lengths to assist the reader. A huge amount of work has gone into it, and it's on point."
"A book from the heart, tapping right into Bruce Gandy's lifelong commitment to improving. This is a gift for generations to come who are trying to harness their potential."
"One of the world's best sharing some old and new thoughts and ideas on performance improvement."
"This book does what few do: it offers a raw, unvarnished look at competing and the challenges, normalizes the stress and pressure all competitors feel, and offers potential solutions for players of all levels. This is a positive, encouraging offering to all players."
Also nominated (alphabetical order) . . .
30 Exactly by Craig Muirhead – the music collection was all about celebrating the people in his three-decade piping life.
Eat Sleep Pipe Repeat – Music for Bagpipes by Kyle Warren – rapidly making his mark as one of our most creative tunesmiths.
FLUX Blowpipe from Robbie MacIsaac – an inventive product designed to keep all that wetness to a minimum. Not yet well known, but still holds the promise of widespread adoption.
Generation 5.1 Pipe Bag Cover from Highland Gear – the Ontario-based innovator continues to find new ways to make better accessories for pipers and drummers.
Live in Chilliwack – Simon Fraser University Pipe Band – a live album fairly quietly put out just before everything shut down, reminding us of the in-person musical power of an elite pipe band.
A New Compleat Theory for the Highland Bagpipe by Matthew Welch – a gorgeously put together work from one of the most creative exponents of the Highland pipes.
The Pipe Factory by John Mulhearn – Glasgow Mulhearn has music running through his dreams and he continues to push the possibilities of the pipes on his latest record that pays homage to his city.
R.G. Hardie B-flat Infinity Chanter – helping to make the Highland pipes an ensemble instrument with other musicians, Hardies right away accessed the expertise of their newest "Champion," Connor Sinclair.
The RISE Collection by Andrew Lawson – the Shotts & Dykehead Caledonia lead-drummer shared his scores from the famous concert in an eBook for all to access.
Socrú – The Collection by Alen Tully – St. Laurence O'Toole's pipe-major put together his terrific compositions and arrangements in one of the best music collections ever.
Tone Temple Bagpipe Case from Modern Piping – Lincoln Hilton quietly created an impressive new carrying case for the pipes and just about anything else a modern piper might need.