Glenfiddich deets confirmed
Organizers of the 2017 Glenfiddich Solo Piping Championships have confirmed contestants, judges and host for the October 28th event at Blair Castle in Blair Atholl, Scotland.
All first-choice invited pipers have accepted, and the judges for the day will be Iain MacFadyen, Ronnie McShannon and Jack Taylor for the Piobaireachd, and Ian Duncan, Willie Morrison and Bob Worrall for the double March, Strathspey & Reel.
Piping and drumming raconteur and former contestant at the Glenfiddich, John Wilson, will return as the host for the day, regaling the in-person and online audience with his customary plethora of information and witty repartee.

To recap, competitors (and their qualifying criteria) are: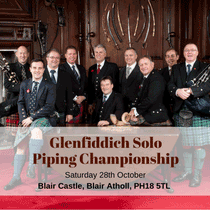 Lee, MacColl, MacLeod and Speirs have each won the event at least once. (Check our Big Prizes database for details.)
While the event will have a refreshed look with first- or second-time participants like Brown, Drummond, Henderson and Sutherland, the 2017 contest will see attendance streaks of eight-time winner Willie McCallum of Bearsden, Scotland, (29 years) and two-time winner Stuart Liddell of Inveraray, Scotland, (10 years) broken.
+ Changes coming to 2017 Glenfiddich
It will be the forty-fourth anniversary of the Glenfiddich Championships, and the event will be streamed live via the National Piping Centre's website.